The 2019 Cycle To The Sun will be on June 29, 2019.
Registration is now open. Please click on the Register tab above to be taken to the registration site.
The Official 2018 Cycle To The Sun Results click below.  Mahalo to all!!
2017 Cycle To The Sun Official Results
published 15:30 on June 24th
2016 CYCLE TO THE SUN
Saturday, JUNE 25th
Fabulous weather! Thanks racers, staff, & volunteers for yet another great Cycle To The Sun!

2016 Winner Rick Beach crossing the line first
A nice testimonial on the 2016 CTTS from Jon Boas from Danville, CA 
Donnie, A big thank you to you and your staff of employees and volunteers for a beautifully well run event and a great day on the mountain at this year's Cycle to the Sun. From the pre-reg, the event check in, the pre-race announcements, organized start, enthusiasm and encouragement from the volunteers and spectators, to the great dinner and awards ceremony, everything was first glass. It made a very tough ride as pleasant as it could possibly be.
Congrats on putting together a stellar event, Jon Boas, CA Technologies, Danville, CA
---
2015 CYCLE TO THE SUN
I want to say thank you to everyone who participated in this year's Cycle to the Sun race! It was an amazing day on Haleakala. Great race all around. Hope to see you next year on June 25th, 2016. Registration will open Feb 1.
Donnie Arnoult
2015 CYCLE TO THE SUN AWARDS PARTY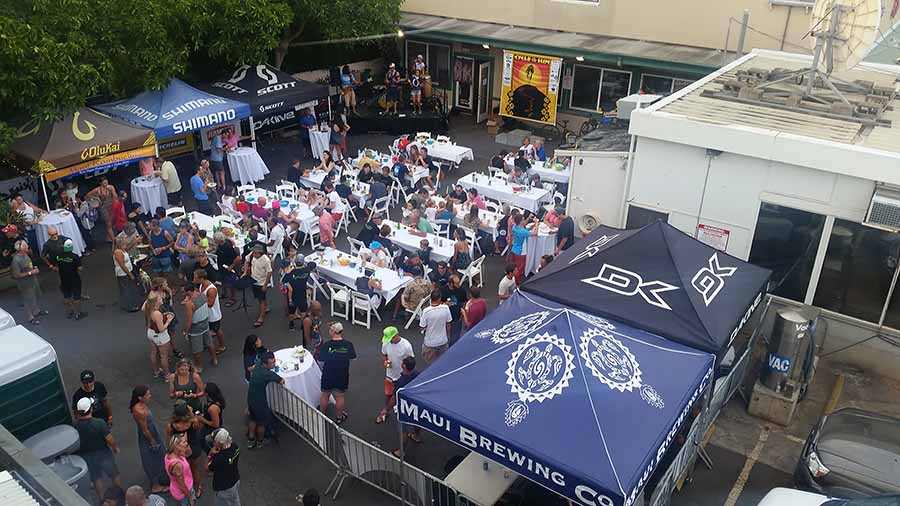 Emails from 2015 Participants
Thanks Donnie,
 That was one sweet effort you put together. Be ready my friend this is going to start to bust at the seems. The visitors I met along the journey had smiles and energy that was quite overwhelming at times. They were asking if this will happen again and when registration starts? This is something that is "one of a kind epic event" that regular people can do. Thanks for seeing this and filling in the pieces of the puzzle to make happen and fit the local.
— Mahalo Wayne
Thanks for another class act year Donnie. See you next year. 
— Aaron
Aloha Donnie!!!
Thanks so much for such an awesome event. What a beautiful ride and great organization!
— Arturo
Donnie,
Thanks to you and your staff for putting together a great event! I will definitely be back next year.
 — Sergio
Thanks Donnie for a great race. When will the results be posted on line?
— Mike
Aloha Donnie,
I would like to thank you and Kirt from Maui Cyclery for your professional assistance by helping me get back into the fight up Haleakala duing my difficult times on the race course. My rear hanger broke at 4,000ft elevation and I was very sad. I wanted to run up to the summit to finish. Kirt was not able to find a part to replace my rear hanger, however we had to decide on plan B because I wanted to finish and because quitting was not an option and because I flew from Oahu and invested so much time, money and training for this race I needed to finish. You Donnie, Kirt and Maui Cyclery helped me accomplish this goal and gave me an official time. My friends waited for me at the top and it was such an emotional finish for me with perseverance. I could never thank you and the team enough for making this possible. I will return in 2016 again for redemption with my race bike and I will bring a spare hanger this time around. Thank you for allowing me to finish strong and for giving me an official time. God bless your soul. Please let me know how much I need to pay for the rental that I borrowed to finish the course.
Regards,
– -Addy Thongsonlone
Emails from 2014 Participants
July 13. 2014
Aloha Donnie!
A very belated thank you for all the long hours, hard work and caring put in by yourelf, your staff, volunteers and policemen that made this another excellent race. Please also pass on my thanks to the Haleakala National Park Service and its Rangers for allowing this event to happen and for their wonderful support in keeping us safe! Huge thanks for keeping the Finish Line up for us slow pokes to cross. THAT made me feel like King of the Volcano!!! Together with my 4th place finish award in my age group and a personal best for me…Life is Good! Mahalo Donnie for making all this happen.
Lynn Wong
July 7. 2014
Donnie,
Thanks for the phenomenal support of an amazing ride. Looking forward to completing the ride again next year.
Take care,
Paul Sims
July 6, 2014
Donnie,
Mahalo to you, Michelle and the crew! Thought I was done with doing them and had one more and even Robin this year.
Aloha,
Jerry & Robin Welch
July 6, 2014
Aloha Donnie,
Thank you and your crew for arranging a great race! I planned my holiday from Norway to fit in with the race and we all had a great time participating and watching.
I hope to return next year and repeat the experience. Thanks again.
Regards,
James Chalmers
July 5, 2014
Dear Donnie
What a fantastic race! I have done a number of bike races in Asia and the UK, as well as a number of triathlons around the world, but your race has the best combination of location, ambience and post-race entertainment! It was also great to see some high calibre riders breaking the 3hr mark, but also the amazing times by the "more experienced" riders, I look forward to being able to knock-out some of those times when I am in my mid-50s too! We also made some great new friends and I hope to see them ride some decent miles with me in Asia too.
I will definitely be making sure my fellow riders in Asia know about your race. It also will not be difficult for me to convince my wife to come back to Maui with me too!
Regards,
James
July 5, 2014
Donnie, a big thank you from me and my 3 friends who flew in from Seattle to do the race. It was well organized with great support during the course. We are already discussing next year and trying to get more people to come. All my best.
Ben
July 5, 2014
Hi Donnie,
Thanks again for putting on the race, it was a blast. Do you know if there will be photos available to order online?
Thanks and best,
Nick Walte
Emails from 2013 Participants
July 2, 2013
Hi Donnie,
Awesome race and post-race party. Thanks so much for organizing it!
Larry Beck, Carnation, WA
July 2, 2013
Hi Donnie,
Awesome event and I look forward to doing it again next year. Thank you for making this seem like a simple event but I'm sure it was no small task to accomplish.
Aloha,
Rick Marine
July 4, 2013
Hi Donnie,
I've been wanting to race CTTS ever since learning about it years ago. I finally had the opportunity to make the 6000 mile trip from Boston this year. It was a fabulous event, worth every mile. Organization and support was fantastic. Kudos to you, the CTTS ride support team, and my fellow racers for making this such a memorable time. I'm already making plans for next year!
Cheers,
Mark Coleman, Arlington, MA
July 2, 2013
Aloha Donnie!
Thank you and your crew of employees and volunteers for another well run race to the top of Haleakala! Although my personal performance changed from last year, what didn't change was your sincere delight in seeing that I made it to the top. Your big congratulatory hug just made my day!
Mahalo Donnie!
Lynn Wong
July 2, 2013
Hi Donnie,
Thank you to you and your team for such an enjoyable event! It was my first time participating in the Maui CTTS, and it certainly won't be my last! After living abroad for several years, I had long circled this date as a must-do event upon my return to the states.
From communication and organization to race logistics, me and my family had a good grasp on how it would work so that they, too, could be a part of it. We appreciate how much time and effort would have been spent in order for participants like us to enjoy the CTTS easily.
The after party was a hit, too, with the live band being a great addition to the fellowship with other riders as we chatted up our suffering and puffed out our chests. Maui brewing Co. was another solid addition and I enjoyed trying their different brews in keeping with a distinctly locally-flavored event.
May your future events only grow and gain as it would be very deserving of increased exposure!
Cheers,
Will Mather, Tradewind Cycling Team / Bangladesh Squash & Athletic Development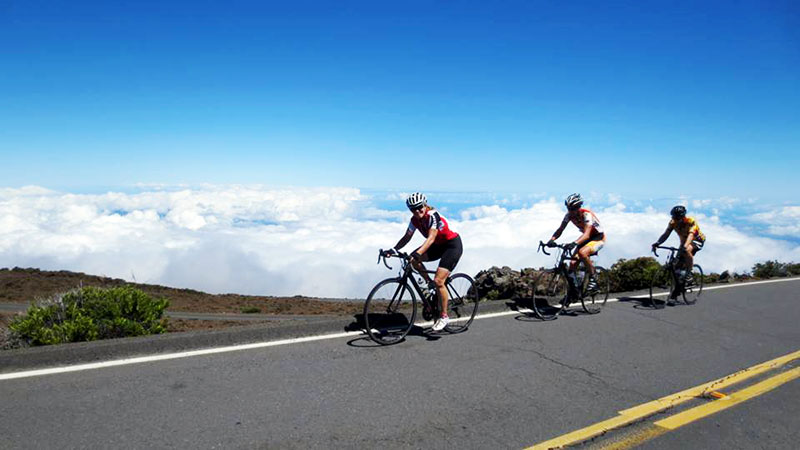 Emails from 2012 Participants
Aug 30, 2012
Aloha Donnie,
Thanks again for an amazing race you and your volunteers put on last weekend! Definitely a "must do" event for any cycling enthusiast – I can't imagine too many races in the world quite like it!
– Penn Henderson
Aug 29, 2012
Aloha Donnie,
I have posted about 580 photos of the race on both my website and on facebook.
http://808photo.me/gallery/cycling/ and here: http://facebook.com/808photo.me/
If people want to share and tag themselves in the Facebook photos, they need to click the "like" button, and then they will be able to tag. I'll drop by the shop soon….
Thanks, Johann
Aug 30, 2012
Hi Donnie:
I wanted to thank you, your staff and your volunteers for the huge amount of time it took to coordinate the Race, support the riders and clean up afterwards. My friends from Tradewind Cycling and Cambio-Core were first timers like me so I decided to tag along. More guts than brains as my mother would say. Well now that it's over, I'm glad I did it.
A big thank you to Nathan for helping my friend fit his rental bike. And a special thank you to Rob for his kind words of encouragement for this newbie and support along the course. And to Martin for making sure us slow guys in the back were safe and for blasting his great country and Neil Diamond music to make me smile. These two guys magically pulled me up that hill with their caring especially at the end when I wanted to give up.
And last, I don't know who to thank because I wasn't expecting to see my name or my time posted since I came in well after the cutoff and wasn't wearing my number anymore. I just heard a woman's voice calling out for my number as I passed through the gate at the bottom of the parking lot. So, please – please thank her for me for caring. My friends all congratulated me as my finish was in print and "official." You even gave me special recognition on your website as the last female finisher. How cool is that!
I hope your son is doing well at Baldwin H.S. and tell him from one Baldwin grad to another, that I think his dad is super and runs a super bike shop because he cares about the people that pass through it and it shows.
Mahalo Donnie!
I'll be proudly pedaling around Oahu in my 2012 Cycle to the Sun jersey. I'll be smiling and thinking about you and the boys and the great experience we all shared.
Sincerely, Lynn Wong