2016 Event Details
The 2016 Cycle To The Sun will take place on Saturday, June 25th.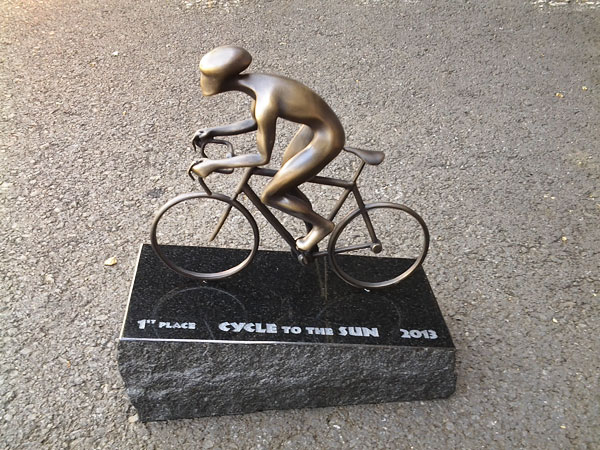 This year's race will be either the full distance to the summit (36 miles, 10,000 feet elevation) or a three person relay. The relay changeover points will be at about 2,700 feet and 6,500 feet.
Holding the race on Saturday instead of Sunday allows more riders to stay at the event party without having to leave for Sunday evening flights home.
Please note that the race is contingent on approval by the National Park Service. This is not expected to be a problem.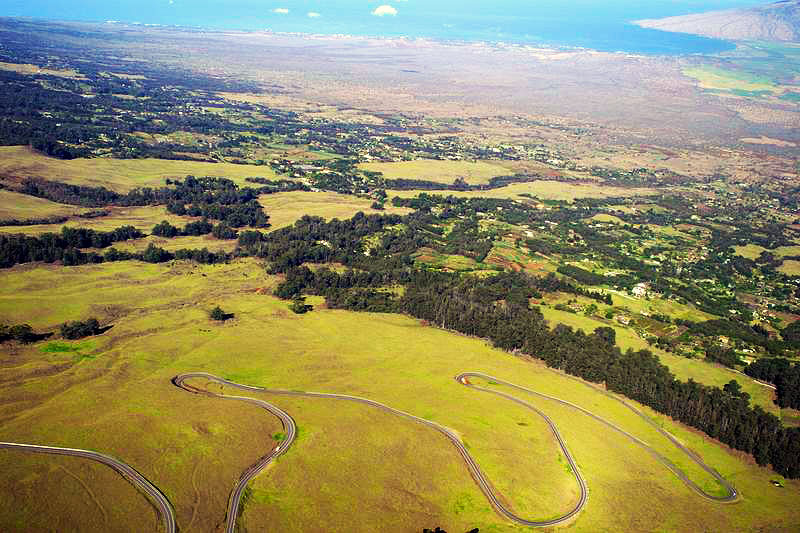 Ride Metrics
Types of Entries
| Entry Type | Distance | Climb | Cost | Kama'aina | Late Fee |
| --- | --- | --- | --- | --- | --- |
| Whole | 36 miles / 60 km | 10,000′ / 3048m | $200 | $175 | $25 |
| Three-Person Relay | 36 miles / 60 km | 10,000′ / 3048m | $300 | $275 | $25 |
Entry Deadline
Entries must be received by Thursday, June 23rd. Entries received after June 1 will incur a $25 late fee. Entries are only taken on-line; no mail or walk in entries this year.
Prizes will be awarded to the overall winners (male, female and relay) and also to the winners of each category.
When you enter, please choose your age and sex (and kama'aina) category and you will be automatically eligible for the overall title.
To enter, please click the Online Entry button on the left. You will be directed to the registration page at bikereg.com. We are not using PayPal for entries this year.
You do not need to register with bikereg.com to enter, but if you are already registered then that will speed up the entry process.
Entries open at 8am, HST on Monday, February 1, 2016.
Packet Pickup
Race packets will be available at the Maui Cyclery from Wednesday, June 22nd at noon until 5pm Friday, June 24th. All riders must sign a waiver in order to receive their packets.
Entry Limit
There is a limit of 200 Racers who can enter the Haleakala National Park, which limits the number of 'whole' and relay entries we can take.
Kama'aina Entries
Kama'aina entries must be accompanied by proof of Hawai'i State residency or by a Hawai'i State Drivers License.
Entry Form
Click the 'Enter Online' button on left to enter.
Age Group Results & Prizes
The following Categories will be scored individually:
18 & Under
19-29
30-39
40-49
50-59
60-69
70+
Cash prizes will be awarded to the Top 3 in the "Open" Division of both Mens & Womens.
Merchandise prizes will be awarded to the Top 6 in all age group divisions.
Start Time
Start time will be 0630 (6:30AM) on Saturday, June 25 at the Paia bypass road. Race Map
Aid Stations – see F.A.Q.
Post-Race BBQ – see F.A.Q.
Total Prize Money – see F.A.Q.
Tax Deductions
Entry fees are tax-deductible, as the Paia Youth Center is this year's beneficiary of Cycle To The Sun.
Schwag & Race Logo Gear – see F.A.Q.
Time Cutoffs – see F.A.Q.